We were quite excited to be headed back to Portugal. It is no secret that this country has risen to the top of our list of possible places to settle down. We were very keen to see if we enjoyed other towns in Portugal as much as we did Lagos.
What made the trip even more exciting was the fact that we got to meet up with friends while we were there. So off we set from Croatia and after a couple of flights arrived in Lisbon. We decided to stay in a hotel for the first night and arrived midday for lunch for a much-needed nap.
After a rest and a shower, we headed out to meet our good fiends, Iain and Ruth. One our many favorite things about this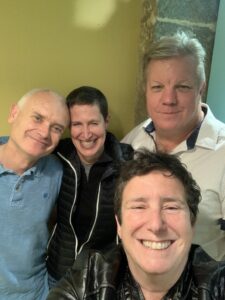 couple is that we are so simpatico that even though we have not seen (or spoken to) them in years, we fall right back in as if we just saw them yesterday. George worked with Ruth in the early days of BellSouth and later with Iain at T-Mobile. When they invited us to their wedding in Turkey years ago, we don't think they really thought we would come, but we did and had a great time.
Our visit with Iain and Ruth had a bonus, we got to catch up with many members of Ruth's family, as well as Ian's best friend. Everyone was in town for Ruth's brother's birthday celebration. We had an amazing seafood dinner and a wonderful visit.
The next day we got up packed up and headed to the train station to meet our dear friends Leslie and Becky. We met up at the station and hopped on the comfort car of the train for an enjoyable 3 hour ride to Porto. Leslie and Becky have been a constant part of our lives since we met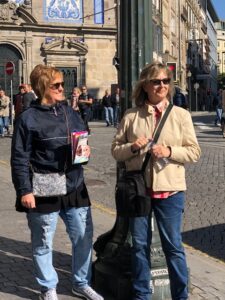 them in Atlanta 16 years ago. They live in St. Pete Beach Florida, and if you check out driver's licenses you will find that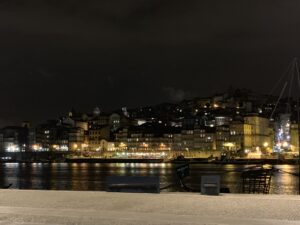 we all share the same address. Allowing us to use their house as a home base is just one of the many things these two amazing people do to support our traveling life.
From the train station we headed to our Airbnb in Porto, a large well-appointed place where we all settled in quickly. Everyone was a bit travel weary, but we still managed to have a lovely dinner down on the river that evening.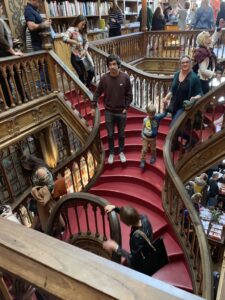 Our first stop on the tourist route was the Livaria Lello, which is an amazing
bookstore that was known to be frequented by J.K. Rowling. Once you visit it is easy to see that this location was clearly the influence for "Flourish and Blotts"  the best bookstore in Diagon Alley. The combination of NeoGothic style and amazing woodwork takes your breath away. But what really catches your eye is the hand carved wooden stairway. When you are on it, one can easily imagine that you are on the grand staircase at Hogwarts, and you can't help but wonder if it is about to suddenly change configuration like the one in the books did.
It would be impossible to describe a trip to Porto without talking about the food. Mornings are a chance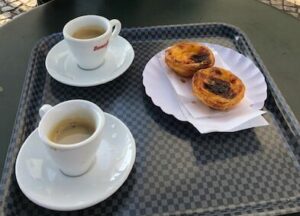 to get espresso and a Portuguese specialty called Pastel De Nata. And between the four of us, we tried a lot of them looking for the perfect creamy egg custard nestled in a flaky crust cup. Some were better than others, but most were delicious and we had a lot of fun looking for the best.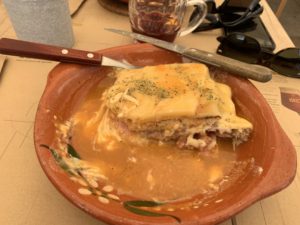 Another staple of Porto cuisine is the francesinha sandwich (Little Frenchie in Portuguese). This over-the-top sandwich contains sliced sirloin steak and Portuguese sausage, served on crunchy  sourdough bread,  smothered in a thick layer of cheese and swimming in a tomato and beer sauce. It might sounds sketchy but trust us – it is fantastic. The best ones are topped with a fried egg. Imagine if an amazing steak sandwich and a perfect French onion soup got married and had a baby….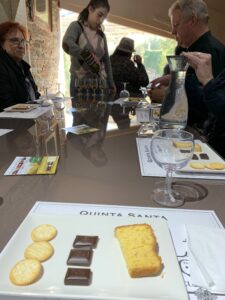 Porto of course is known for its fortified wines or Ports. Bonnie made arrangement for us all to be picked up for a day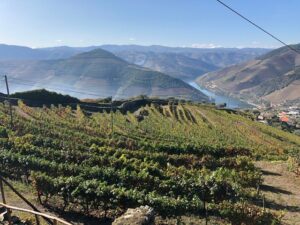 touring the Douro River Valley, to learn about Ports and the other wines there. We toured two lovely wineries, which were very small by California standards, and enjoyed tasting a lot of different types of wine and Ports. We also enjoyed a river barge cruise down the river to see the sights.
All too soon it was time for us to pack up and leave delightful Porto. But the good news was that we still had to more days to spend with Leslie and Becky exploring Lisbon. We all hopped on the train and headed back.
One of the fun things about an Airbnb is that you really don't know what to expect, sometimes the residences can be fun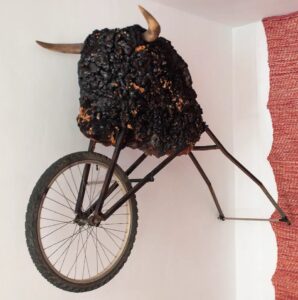 and quirky and our place in Lisbon certainly did not disappoint. Tucked into a historic building in the Alfama district of Lisbon, this apartment was beyond eclectic, right down to a combination bicycle and bulls head that adorned the wall. The location was an excellent central spot for us to use as a base for exploring. We wandered for miles, tasting more pastel de nata, and generally got to know Lisbon.
After an amazing week together, we loaded Leslie and Becky into an Uber bound for the airport and home. This next day we made the same trek on our way to Penang Malaysia.
Portugal was everything we hoped it would be, the style, the vibe, the food and friends.
We will be back!