It was great seeing so many friends and family members on our drive across America; especially since we had been overseas so long. Our extended stay in the United States was made possible in part because we were finally able to get signed up for insurance via the Affordable Care Act. Now we have coverage both inside the USA and when we are on the road internationally.
We came across an amazing opportunity to house sit in Mexico, and it was just too good to pass up. So after after a house sit in San Diego and some days with wonderful friends, we hopped a flight to Playa Del Carmen. This smaller tourist community in roughly centered between Cancun and Tulum with (Cozumel directly to the east) on the Yucatán Peninsula.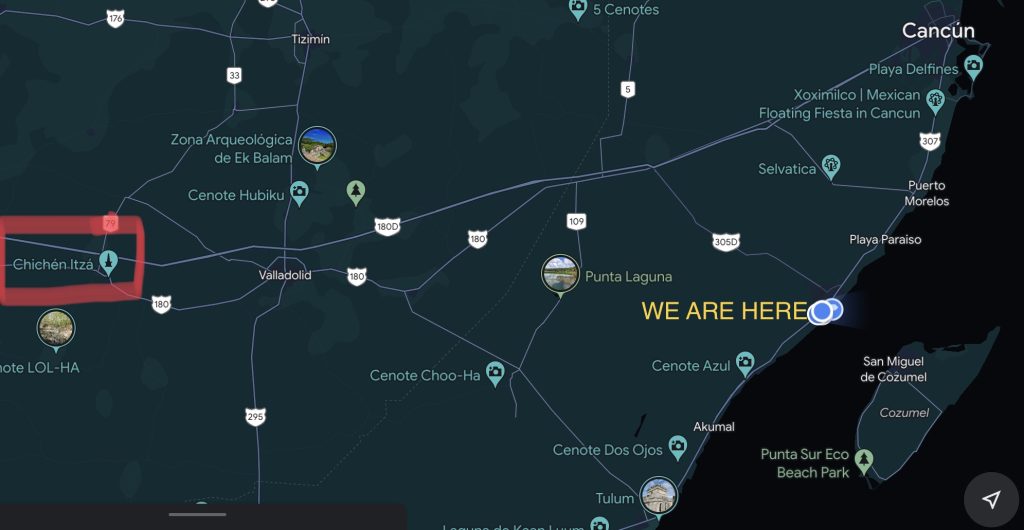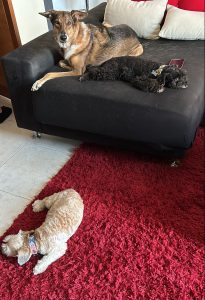 Our first location included three very lovable dogs, Mouse, Coco and Brownie. We had a great time playing with them and exploring the neighborhood during daily walks. From there we moved to a lovely but affordable rental apartment for a few days. Since we were not actually house sitting at this location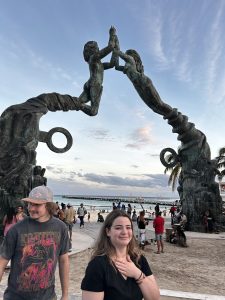 we were able to invites guests to come visit. In this case, our visitors were Bonnie's niece Isabella and her friend Erik, from Seattle Washington.
Having visitors come is always a good excuse to go do touristy things, and we did! Our first big outing was to wander the "Zona Touristica" where wandered down the long pedestrian street, drank margaritas and had an amazing dinner.
The next day we took a road trip of about two and a half hours to a complex of Mayan ruins called Chichen Itza. Around about 700AD this area was a bustling city with thousands of inhabitants. The tourist area here contains many many ruins and smaller structures,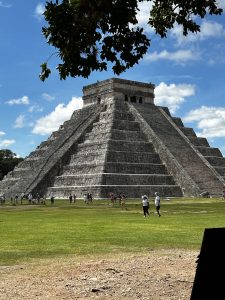 but the largest and most impressive is the pyramid called El Castillo. Wandering around the ruins is made even more entertaining by a horde of salespeople, each hawking souvenirs ranging from jaguar calls to tee shirts and wooden carvings. Everything is "on sale today" and "so cheap it's almost free".
A word of caution if you drive yourself to Chichen Itza: many less than reputable groups with try to flag you down on the small road that leads you to the complex. They will tell you, sometimes very convincingly, that they are the official sales people for tickets into the complex, and if you buy later it will cost much more and you can skip the line. In fact, they will try and charge you double and you have to wait in a longer line if you buy from them. Politely decline their offers and wait to buy your tickets at the gate; the line was not bad at all when we were there.
The next day was our fun-in-the-sun day. We started at one of the local fresh water swimming holes. These swimming areas occur naturally when underground limestone caves collapse and fill with ground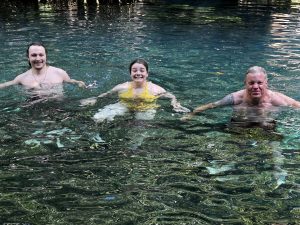 water. Many have caves that you can explore. There are thirteen of these Cenotes (pronounced see-NO-tay) around Playa Del Carmen. We chose one called Cristalino which, we were advised, is a bit less packed with tourist. The water was in fact crystal clear and blue and not as cold as I expected. We had a great time swimming around and checking out the caves. I'd you sit and dangle your feet in the water, little fish swim up and nibble at the dead skin on your feet. Assuming you are not too ticklish, it is a natural pedicure for free.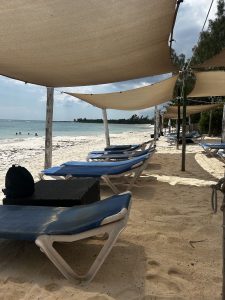 After the Cenote, we drove to a nearby beach, where for a very reasonable price we rented beach chairs under shady umbrellas and enjoyed cocktails by the ocean. The weather was delightful, the ocean clear and cool and the service amazing. It is easy to see why this area is the topic of so many songs about escaping for a beach holiday.
Tomorrow we are headed back for a second sit at the same house we visited when we first arrived. In just a few days we will enjoy an extended celebration. October 30th is Bonnie's birthday and October 31st kicks off a three day holiday in Mexico called Dia de Los Muertes or Day Of The Dead. A whimsical, yet quite serious holiday, in which the Mexican people remember their loved ones who have passed on. More about that later….