October has brought cooler temperatures to Germany, a sure sign that it is time to move along to an area with warmer weather. (If we do this just right, we will never have to experience another cold winter again.) Luckily we are nearing the end of our stay in Dusseldorf.
Bonnie and I have settled into an easy pace of life in this largely corporate and college town. George's morning here typically starts around 7:15, if he is not up and about, Digger (one of the two cats we are looking after) stands beside the bed and makes chirping sounds until he relents and get up. If somehow, he manages to sleep through the morning concert, Cato (the second of the pair) jumps on the bedside table and head-butts him in the face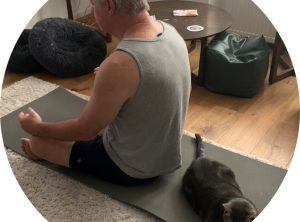 until he is awake and up. Thus, they have us trained to get up and feed them promptly in the morning.
After morning yoga, some breakfast, and the New York Times crossword, we typically head out to explore the city and shop for the day's provisions.
We enjoy walking, and this is just the town to do it in. In the last month and a half, we have explored quite a bit. Most of the good shopping areas are a bit far away; so we jump on the subway/tram that stops on the street just in front of the apartment.  The tram (or Stadbahn, as it is called), gets us to the start of our walks, by delivering us to either the old town (Alstadt) or the a great walking street called Kings Avenue (Konigsvalle) which is lined on both sides with shops and galleries.
In order to 'get our steps' that make up the 2 miles or so we like to walk,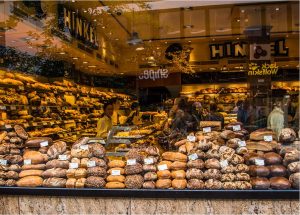 we love cruising through the Carlsplatz Market. A collection of specialty stalls including bread shops, cheese mongers, butchers and flower shops. Once we decide on an evening meal, we are off foraging.
It would not be fair to mention Altstadt without talking about the touristy area lined with bars, breweries, and restaurants. There is one street that is so closely packed with bars, built side by side, that it is commonly referred to as the worlds longest continuous bar. Like Bourbon Street in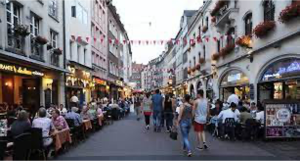 New Orleans, this area has a quiet peaceful personality during the day and a completely different frenetic energy at night.
Speaking or beer and breweries; it is October, and we are in Germany BUT, we quickly learned that Oktoberfest if limited to a specific part of Germany (around Munich). We did, however, go on a tour of several of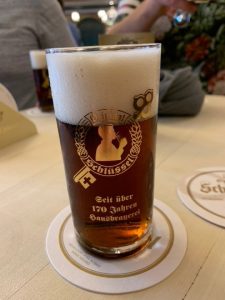 the local breweries. The tour involved walking around old town, stopping at several different breweries, and trying their beers, while learning more about beer in Germany. We learned that each region makes it's own stlye of beer and that there are very strict regulations about what ingredients can be added to beer made here. This is limited to malted grain, hops, yeast, and water. No other ingredients and additives are allowed. We also learned about a special style of beer which is fermented with yeast that works from the bottom of the vessel up (as opposed to most which consume the sugar from the top down). These bottom fermented beers are called Altbier ("alt" beer) and have a distinctive taste.
After having visited, the butcher, bread shop and whatever other markets we need to, we jump back on the tram and head back to the apartment, usually around 2:00 or 3:00pm. Evenings are consumed by preparing whatever fresh ingredients we have found and enjoying the meals in the very comfortable apartment that we are house sitting in.
On Sunday, we will once again pack out bags and jump on a plane. This time we are off to Vietnam. No more long pants and sweatshirts for us!
See you again Dusseldorf, it has been fun…..