Since we (Bonnie & George) live on the road full time, we tend to merge our daily routine with the peculiarities of the country we are in. We both love to walk and cover 3 or 4 miles each day.  During our first couple of months in Da Nang, we really got to know the area that we live in and the surrounding neighborhoods quite well; but not much of anything else in the region.
In short what I am saying is that we are terrible tourists. So, when out friends Matt and Stephanie came from the USA to visit us in Vietnam, it was great excuse to check out some of the local "touristy" things to do. Both Matt and Bonnie share a love of cooking (luckily Stephanie and I love to eat); thus, a cooking school seemed like the logical choice.
I searched online and found a school with locations in both De Nang and the neighboring town of Hoi Ann. After reading review of Jolie Cooking Class. We decided to give it a go. We reached out to Jolie and arranged a date and time.
The day started early with a car to pick us up at our apartment in De Nang at 7:30am. The cost of the car for the four of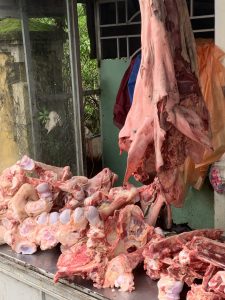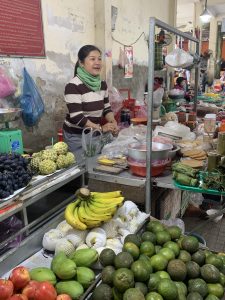 us was included in the cooking class. We elected to take the class in Hoi Ann to see a bit more of the surrounding area. 40 minutes, and some beautiful scenery later, we arrived at one of the local markets. Jolie met us and guided us through the markets, explaining how to pick the various fruits, vegetables, herbs and meats that we would use in out cooking class later. Once loaded up with our raw materials we left the markets and stopped for a coffee before we started cooking. This was great, as it allowed us some time to meet the other folks that were in taking the class. In total there were only 6 of us in the class that day, a perfect sized group.
After a delicious, iced coffee, we took the short walk to Jolie's compound with a combination of here home, a traveler's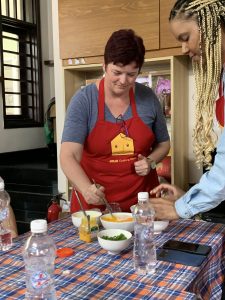 hostel and the cooking school. Were greeted by three young ladies, each more delightful than the last. These three under, Jolie's careful tutelage served us delicious orange tea and then helped us prepare three amazing local dishes. Despite the fact that Matt & Bonnie are the real cooks in the group, we all were encouraged to get involved in the food prep. Of course, there was a lot of laughter, fun and singing (the girls have beautiful voices) throughout the perpetration.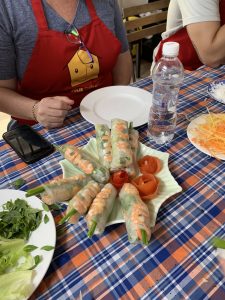 With the aid of some flash cards, the girls taught how to properly pronounce the names of each one of the dishes. The also taught us how to make very clever garnishes including rosed made from tomato skins and flowers made from red hot chilis.
The food was amazing and we had so much fun, before we knew it, it was afternoon, our bellies were full of amazing food and ours sides ached from laughing so much.
In fact we had such a great time, when our friends Rachael, Derick and Laura came to visit us: we went back again. Because we were in four our second visit, the team in Hoi Ann went out of their way to make sure it was again a unique experience.
What was different: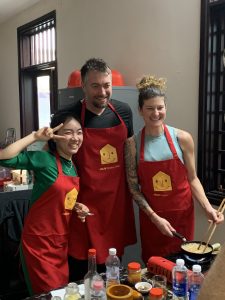 our guide this time was named Rosie
the food we prepared were different dishes and so the sections of the market we went to were different to gather different ingredients
the games we played and activities we did were all different
What was the same:
we went back to the cooking school at Jolie's compound in Hoi Ann
the food was amazing
the girls at the school were just as fun and charming as before
the value for money (around $40 per person) was great
So, if you find yourself in De Nang or Hoi Ann and are looking for a fun, educational and just thoroughly enjoyable diversion, check out Jolie Cooking Class.