Well, it is quite a change from Vietnam, but we now find ourselves in the little village of Morpeth, New South Wales. Morpeth is located a couple of hours north of Sydney, and at 200 years, is quite an old town by Australian standards. The town has a population of just over 1,500 people, so we are quickly coming to know the locals.
Nadine owns a coffee shop called "Common Grounds" where George played and sang (busking it is called here) for a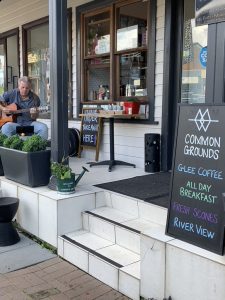 couple of hours on Sunday. Nathan works at the local butcher where Bonnie bought nice leg of lamb, direct from the family farm this morning. Brook is our favorite bar tender at the local pub.
But the most important individual we have met is Arthur, 12-year-old chocolate lab, who lives with his person, Alison, in a delightful old home here in town. We are looking after the house and hanging out with Arthur for a few weeks while Alison is in Europe on holiday.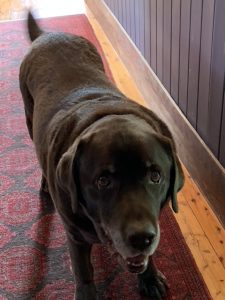 Arthur is a big boy, as one local commented this morning he has been "feedin' in a healthy paddock". This is just one of many colorful turns of phrases we have heard. One chap outside of the small grocery store commented about the wind, which was "strong enough to blow a dog off his chain".  Another person commented that she did not remember how many it was, but she was "still on her hands"; which we later learned means that it was less than 10, as she could still count them on her fingers.
We were lucky enough to experience the ANZAC day parade and remembrance in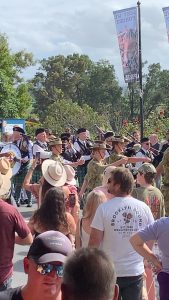 town. ANZAC stands for Australian, New Zealand, Army Corps. It was quite a big event for the little town of Morpeth. Arthur had a great time resting on the sidewalk out in front of the pub, where many folks in colorful attire and a chest full of ribbons stopped to give a head scratch or belly rub.
One more important note about Morpeth; it is home to the original bake house owned by the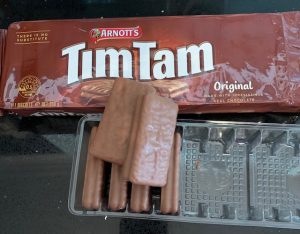 Arnott family. Arnott's is now the biggest name in cookies (or biscuits as they call them here) in Australia. Most importantly, they are the makers of "Tim Tams", George's favorite cookie in the world!