We had a couple of days between the end of our house sit in New York and the start of the English immersion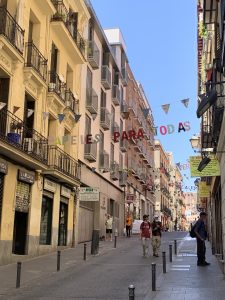 program, so we decided to take advantage of it and visit Madrid. The first thing we had to do was find housing. Lately we have found air B&B to be too expensive for short stays (by the time you add in the cleaning fee, a hotel is often cheaper), but since we were going to be there for several days it worked out OK. We found a small studio in the Atocha area that was central to just about everything we wanted to walk to.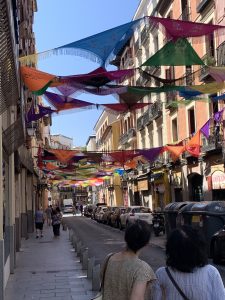 We knew nothing about Madrid, but lucky for us, an old friend Jose Daza lives there and he was happy to show us around. Madrid in the summertime is very hot, and for this reason we met a little later in the evening for our walking tour of the city with Jose. What a tour it was, we started at 7:00pm, walked for more than 5 miles and ended up at home around midnight, lucky for us the tour included tapas and cocktails!
Here are some interesting tidbits we picked up during our tour:
The Spanish take their sports very seriously. There are many football (we Americans call it soccer) teams in Madrid. The most famous of course is Real Madrid. There are also many beautiful fountains around the city. Each of the major teams has a particular fountain where they gather to celebrate wins. As you can imagine this involves a lot of music, dancing, drinking and a more than occasional dip in the fountain.
There are many, many museums in Madrid, but the largest three are in an area called the Golden Triangle of Art. These include The Prodo, Reina Sofia and the Thryssen-Bornemisza. For a reasonable price, one can purchase a single ticket to visit all three.
There is still a King in Spain, although, these days he is more of a figurehead. There is a royal palace, but it is more of a museum, the King lives in a private residence in suburb of Madrid.
The original official cathedral, still stands, but has been replaced with a larger, much grander structure. "I guess God needed more room", our friend told us.
Dinner was light, the Spanish eat their big meal in the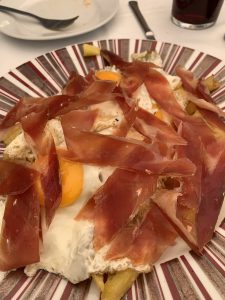 middle of the day, which is good since they eat the evening meal so late. We did not sit down to eat until 10:00, for Spain this is quite normal. It also makes sense since lunch is typically served at 3:00pm, after which is a "mid-day" siesta. This worked out well for us since it was really hot in Madrid while we were there, with temps in the 90's (that's the high 30's for those of you keeping up in Celsius)
The day after our big tour, we slept late and then headed out to do some more exploring. We stopped in a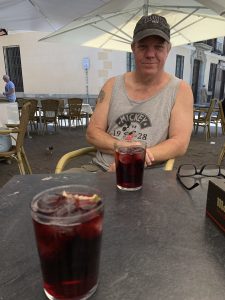 small café for some morning tapas and a glass of Sangria. The last time we enjoyed Sangria was in Portugal with our friends Leslie and Becky.
Later, after our nap, we headed out to sample a Spanish specialty that Jose talked about during our tour. Locally made vermouth, or Vermut. Presentation was impressive, a chilled martini glass with garnish was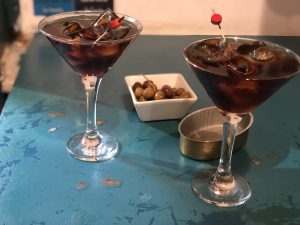 delivered to the table. The large ice cubes in the glass were then misted with Gin, a generous serving of red (sweet) vermouth was added and finally topped off with two small dashes of Compari.  The drink was as delicious as it was beautiful, we were very impressed.
On our final night in Madrid, Jose invited us to his house for a very special meal, home made Paella. Jose's home is in the suburbs not far from the King's residence. We grabbed an UBER (which we found works quite well in Madrid) to get there. The Daza home was lovely, and we quickly made friends with the family dog & cat. Jose explained that his wife and son had already headed out to their holiday home on the coast for the long weekend. Jose had to work, so he was packed to drive out to meet them the next day.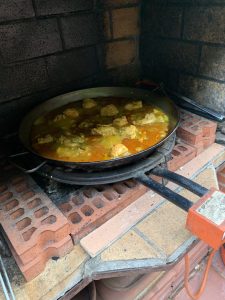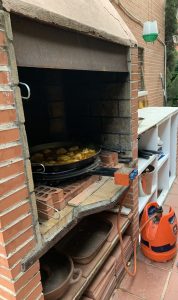 .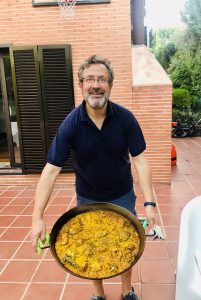 We snacked on cheese and local ham (Aaaaamazing ham was everywhere in Madrid) while Jose prepared dinner. He explained that "real" Paella was made with meat, not shellfish. His had rabbit, chicken, and a bit of beef. He started with a broth he had cooked in a pressure cooker and them moved the ingredients over to his Paella pan to prepare the rest of the dish. Needless to say, it was delicious!
With a fond farewell to Jose, we headed back to get some sleep before we had to meet the bus the next morning for the English program; the original reason we came to Spain in the first place.