We were lucky enough to be chosen for a house sit  in the beautiful village  of Portrush.
Here are the stats: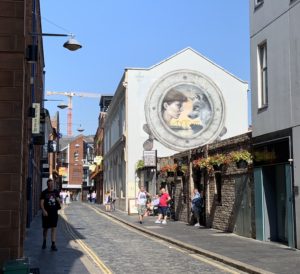 We enjoyed 26 days house sitting for our hosts Tim & Judy. To get there from our training class in Germany we flew into Dublin, took a bus into Belfast and after a couple of days in an Airbnb there we hopped a train up the coast to Portrush.
While we were there we looked after 2 "wee dogs", Socks and Beau.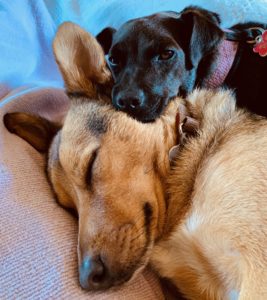 They accompanied us pretty much everywhere we went, woke us up by jumping in bed with us in the morning and generally demanded love and attention which we were happy to give.
Although we took a couple of day trips by bus, our principle mode of transportation was walking, most often with the dogs straining at the leashes and dragging us along our route, this is kind of nice when you are going uphill. In total during our stay, we walked 96 miles which works out to an average of 3.7 miles per day.
Our favorite spot to eat out what a little bar called "Kiwi's Brew Bar" which not surprisingly is owned by a New Zealander. During our visits we dined on some of the best Buffalo chicken wings we have ever had outside of the USA. While did not eat too many in any one sitting, we did visit often enough to consume a total of 5 dozen. If you get a chance, go for a visit and try the wings!
On the topic of food, the folks at Kiwi's told us they got their wings from Etherson's Family Butchers. We set out to find their shop one day only to realize that they do not sell retail out of the shop in Portrush. They sell wholesale to the bars and restaurants and stock a butcher's counter in one of the local shops. While we stood and pondered the closed storefront of the meat processing facility in town, we struck up a conversation with one of the butchers who was out for a smoke. When we explained that we were looking for a butcher to cut us a couple of nice thick America style steaks. They were nice enough to invite us round to the "back door" and hand cut a couple of gorgeous 11 oz sirloins for us. These are the wonderful types of folks we ran into all over Portrush.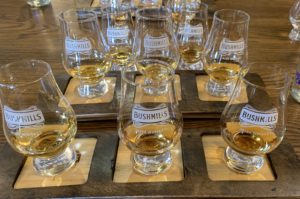 Of course we had to visit the Bushmills Distillery , and while we were there we tasted a total of 12 different variations of the delightful product. You can read all about our day at Bushmills here…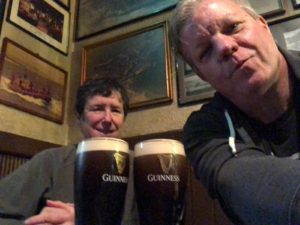 Since we are on the topic of drinks, we should mention the amazing pints of Guinness Irish Stout poured at the Harbor Bar. We are told it is the best pour our Guinness in Northern Ireland, and we believe it. While in Port Rush, between us we enjoyed a total of 12 pints.
No visit to this area of the country would be complete without a visit to the Giant's Causeway. There are 2 stories of how this amazing set of stacks perfectly octagonal stones came to be found in Northern Ireland.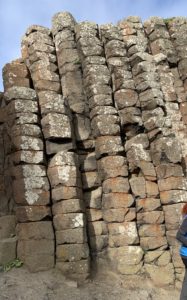 Of course there is the boring old tale of how geometric shapes where formed as a result of volcanic activity.
But a much more fun version is about an Irish Giant named Finn McCool why had a beef with a Scottish giant on the other side of the waterway, so he built a stone bridge causeway so he could go over and fight him. When Finn arrived and spied on the Scottish giant, he realized that the Scott was MUCH larger than he appeared from across the water. So, Finn hot footed it back across the causeway (loosing one shoe along the way). Finn's clever wife dressed Finn as a baby and when the Scottish giant came across the causeway to Ireland, he took one look at Finn and decided that if the baby was that big he did not want to visit the daddy.So the Scottish giant headed back across the water destroying most of the causeway on the Scottish side, but leaving it on the Irish side.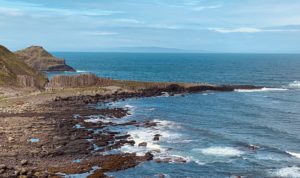 While visited the Causeway we hiked 5.1 miles of amazing trails much of which ran atop bluffs that looked down onto amazing vistas.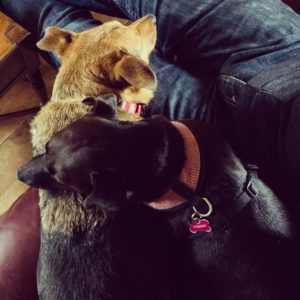 We had an amazing time hanging out with Socks and Beau, thanks again to our hosts Judy and Tim Nelson.
By the way American Judy Nelson (of Deck Bar fame) says there may be some linked heritage with her and the Irish Nelsons back there someplace…