It's summer on the Gold Coast and we are finding plenty to do to entertain ourselves.
Since we technically are still tourists, we decided to do one of the ultimate touristy things – we attended a staged production by the Australian Outback Spectacular called Heartland. Maybe staged is not the correct word to use, since the show was presented in a upscale indoor rodeo with arena. A combination of horses, cattle, cars, trucks, 4 wheelers, singing, dancing and amazing choreography (most of it on horseback) was sewn together with very creative use of scenery projected onto the arena via an extremely sophisticated lighting system.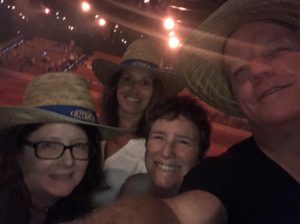 The story was a familiar Australian tale: cattle ranchers in the outback struggled to hang onto their farms through a severe drought. There was a love story, comedy and a villainous banker who tried to foreclose on the ranch. We were amazed how they were able to serve a three course meal to the whole arena while the showers was taking place. And we got hats!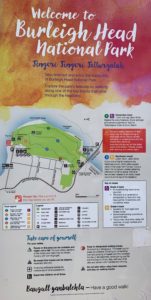 About 40 minutes drive from the house is the Burleigh Heads National Park. There are many walking tracks within the park itself including the Ocean View Walk around the the rocky headland; the Rainforest Circuit which takes you through the park where you can view beautiful plant and bird life. Along the way there are many places that allow access to the beach. We went on a Saturday, so the beaches and trails were busy, but everyone was friendly and we had a great hike of about 3 miles or so. The views were amazing!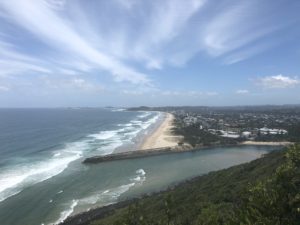 On another evening, we caught a ride from friendly Uber driver Dave. We went to wander through the Night Quarter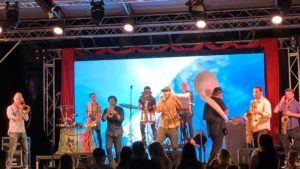 Rows and rows of storage containers have been converted to create alleys of shops, food vendors, beer stands and live music. This is truly a locals hangout, we were among extremely few tourist at there. The food was excellent, the beer was cold and cheap and the music was energetic. Definitely worth a visit.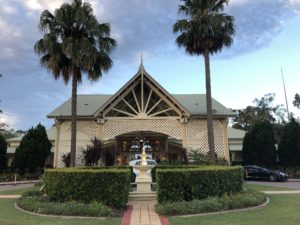 George's birthday dinner was a special evening. We sat at the edge of the lagoon, at the Intercontinenal Hotel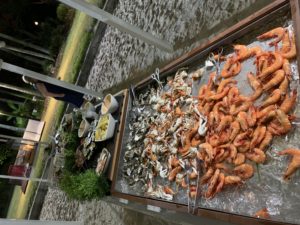 a table with fine china and while linen table cloths and our bare feet in soft white sand. Dinner was a giant seafood buffet, with oysters, crab, jumbo shrimp (they call them prawns here) and an amazing dessert bar. Our waitress Kelsie made sure that our glasses stayed full of champagne and then red or white wine which flowed freely throughout the night. All in all, a delightful experience at a very reasonable price of for an "all you can eat (and drink)" meal In an ideal setting.