We are starting to get the hang of this half day tour thing. Yesterday we headed out for Thai cooking classes. Again there were a LOT of options, so after some web research we chose The Best Thai Cooking School. The price was well worth the 850 BHT (about USD $30) we paid.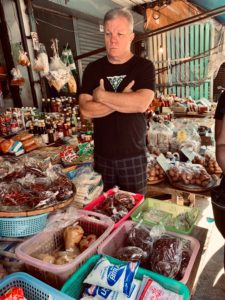 As with the elephants, we were picked up at our hotel (this time about 7:30am). After a few stops for more students, we arrived at an open air market for a very informative talk on fresh ingredients. After the talk, we were given 15 minutes to wander around the markets and then it was back into the van for ride to the farm and school.
Our first stop at the farm was to a rice paddy and large set of gardens. Who knew there was so much to learn about rice? Suffice to to say if we ever get stuck in the wild we can now harvest, separate and cook our own. We also know how to identify several different types and which rice of best for dinner versus dessert.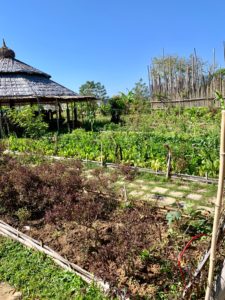 After a tour of the garden we were led into the main school where we were each assigned our own cooking station compete with utensils, a burner, chopping block and several different types of pans and woks.
The first demonstration was on making curry paste, pounding a variety of chilis, spices and seeds into the consistency of ice cream. Throughout the class the instructors (both men) kept up an informative and surprisingly funny banter. We were advised that we would get cookbooks with the ingredients and instructions spelled out "if" we passed the class. On several occasions the instructors would see us doing something incorrectly and joking yell out "you fail, come back tomorrow". The Gordon Ramsey of Chiang Mai.
We were invited to select from several dishes to make up each course of five course meal:
• Soup – George made coconut milk soup; Bonnie made rice soup
• Salad – made with green unripened mangos
• Curry – George made red and Bonnie made green
• Stir Fry –  George made Chicken and Cashew Nuts; Bonnie made holy basil with pork
• Pad Thai – made in a work, and cleverly served in a thin omelette
• Mango Sticky Rice – unlike the salad the dessert is made with yellow ripened fruit.
With our courses selected and technique demonstrations complete we set to work preparing our dishes. Everyone chopped, fried and stirred happily away, with only the occasional shout of "You fail, come back tomorrow!". Both of the chefs and their support team were extremely friendly and genuinely seemed to enjoy what they do.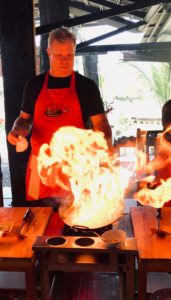 As each dish was completed it went under our bench while we worked on the next. During our first snack break we got to enjoy our soup. At one point in the prep, we were shown how to inject a bit of flair with a flaming presentation of the stir fry.
After the cooking was done we took our finished dishes out to the dining area and enjoyed them with ice cold beer and some great conversation. So good, so fresh and so much food.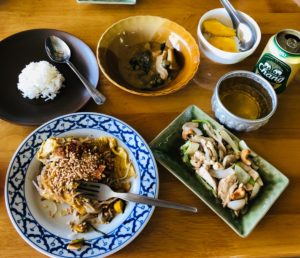 I am sure that it will not surprise anyone who knows us to hear that that ride back to your hotel was followed by a nice long nap…